Just before lockdown my 8-year old enjoyed a free cycling course at school, giving her the skills to cycle on the road. But with so much rush hour traffic the roads were too intimidating and dangerous for her to cycle on them.

So during lockdown, when there was much less traffic on the roads, my family saw an opportunity to go cycling together. We invested in bikes and on the new calmer roads, my daughter felt safe to ride her bike for the first time. We were able to practise safely on the roads and build our confidence cycling as a family. In fact the number of families getting out and cycling was really noticeable.

As schools returned we started cycling to school. We noticed how much more energy my daughter has as she starts her school day, even the head teacher commented on her increased confidence. But since September we've noticed traffic has significantly increased.

Thankfully, near my son's nursery in St Peter's ward, People Friendly Streets have been implemented. Filters prevent traffic cutting through this area, creating a safe environment for families to cycle and walk to school. As we cycle through these streets, I fear much less for my children's safety, the danger from road traffic is greatly reduced and my asthmatic son is not so exposed to air pollution from vehicles.

But the other half of our journey to school is through Barnsbury and St Mary's neighbourhoods. It's very dangerous and stressful cycling through these streets as there is so much traffic, cars pull out from all directions. The contrast between the two areas is stark and shows what a difference People Friendly Streets make. In St Peter's ward we feel encouraged to walk and cycle whereas in Barnsbury and St
Mary's it seems safer to drive even short distances.

I'll own up, before we learnt to cycle as a family we used to drive the round trip to school and nursery. The new People Friendly Streets are creating a much safer environment for families to cycle safely, taking short car journeys off the road which is essential for reducing traffic and cleaning up the polluted air in Islington.
And it seems I'm not the only one - here's a screenshot of Fran's WhatsApp chat from a couple of weeks ago: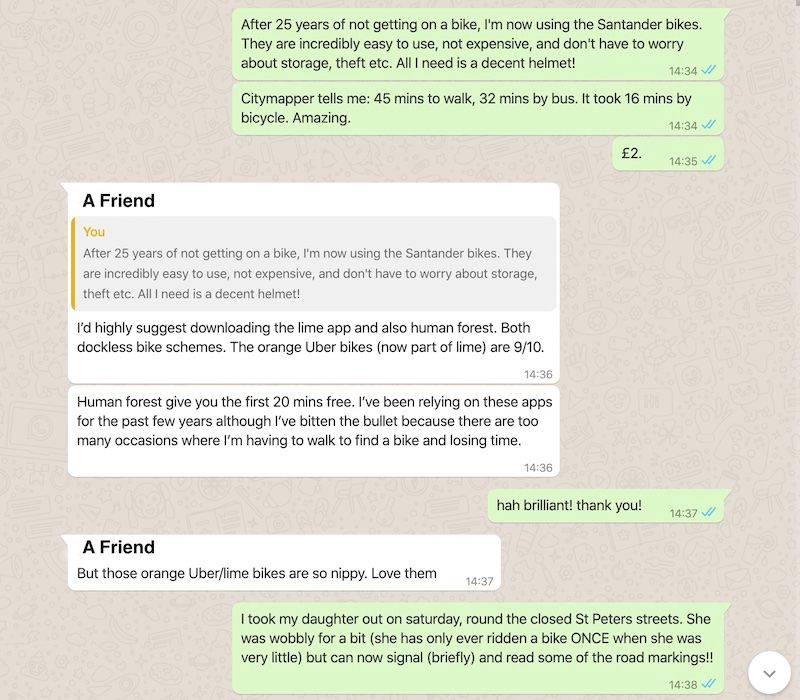 We've been sending in our thoughts to Islington Gazette, take a look!