The Council, the Mayor, the Government
Introduction
Low Traffic Neighbourhoods (LTNs) are not a random whim of our Councillors. This administration was elected in 2018 on a manifesto that promised they would promote walking, cycling and the environment, to the extent that funding was available. In 2019 it was clear that the Mayor and TfL were on the same page. Then COVID-19 hit and the Government instructed all Councils to quickly implement schemes that would discourage people getting into their cars, and would encourage walking and cycling and, crucially, provided funding. Islington responded rapidly and responsibly with a number of measures, one of which is the introduction of LTNs.
The Council, the Mayor, the Government – they are all properly elected bodies. LTNs are being introduced in a constitutional, democratic way.
2018 Council elected on this ticket
The current Islington administration was elected in 2018 on the explicit promise in their manifesto to continue their actions to improve and protect the environment including, among others, closing streets outside schools, building new protected cycle routes and banning HGVs on residential roads. Quoting the manifesto:
... we fully support the Mayor's 'Healthy Streets' agenda, and, subject to external funding, will implement a programme of healthy streets at Clerkenwell Green, Central Street/Golden Lane and at Angel. We will submit a bid to the Mayor's Liveable Neighbourhood scheme at every opportunity.
At the election Labour won all but 1 of the 48 seats and that seat is held by the Green Party.
The Mayor's Guidance
Even before COVID-19 hit us, the Mayor's and TfL's policy was Healthy Streets, which included LTNs. Quoting from the 2019 Liveable Neighbourhoods Programme Guidance:
London's future success relies on reducing our dependency on cars in favour of increased walking, cycling and public transport. The shift away from the car will address many of London's health problems, by reducing inactivity and cleaning up the air. It will help to eliminate the blight of road danger. It will limit the city's contribution to climate change and help to develop attractive local environments. And importantly, it will revitalise local high streets and attract international businesses and their employees to more pleasant urban centres.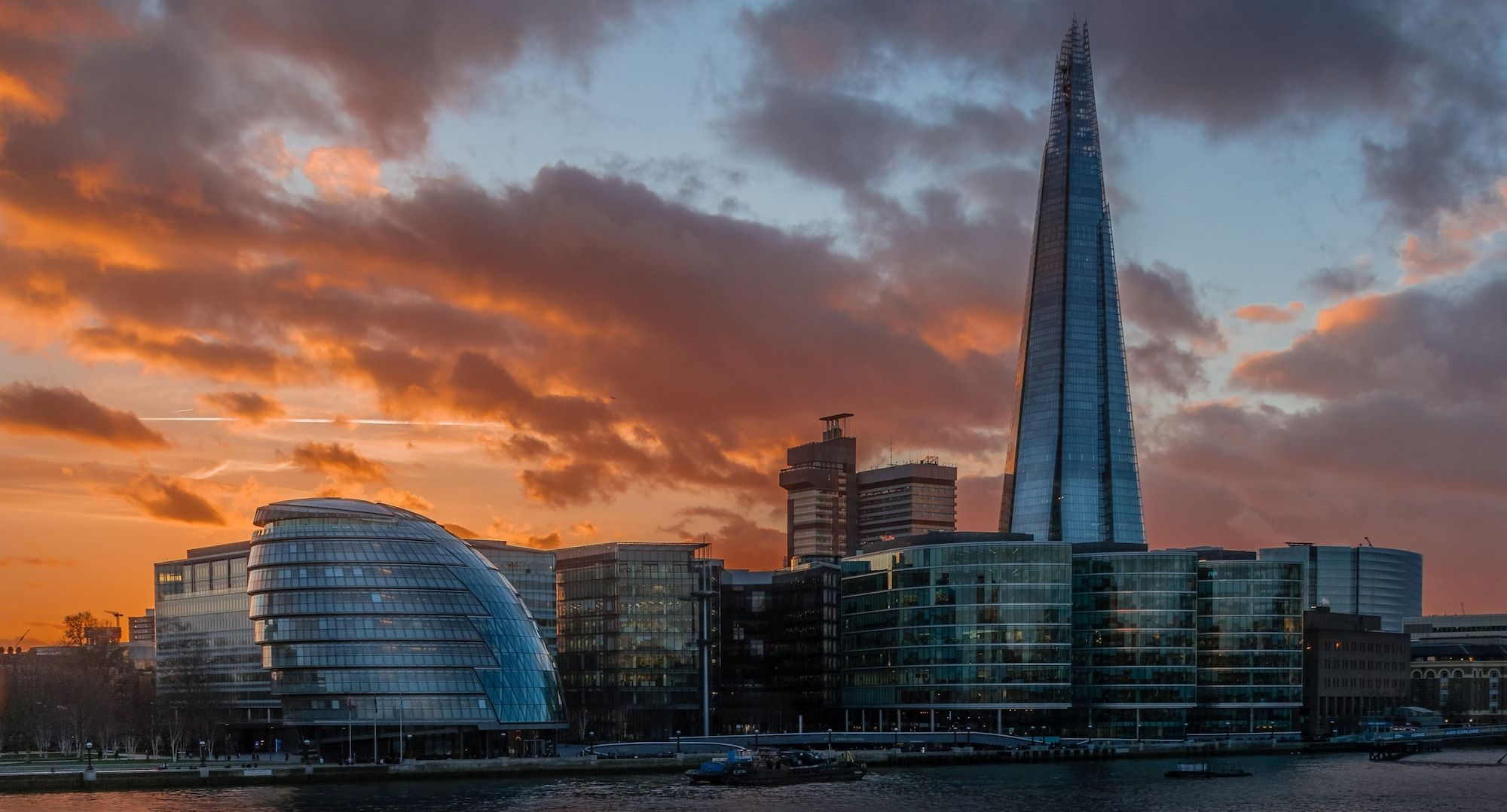 Government Guidance and Funding
At the 2019 election Conservatives won 43.6% of the popular vote – the highest percentage by any party since 1979. Then in May 2020 the government mandated LTNs as one of the tools that local authorities should (not "could", but "should") use to facilitate the return to work in a post-COVID, physically distanced, London. And funding was made available.
To quote from the relevant Statutory Guidance:
With public transport capacity reduced, the roads in our largest cities, in particular, may not be able to cope without it… Indications are that there is a significant link between COVID-19 recovery and fitness. Active travel can help us become more resilient. … The government therefore expects local authorities to make significant changes to their road layouts to give more space to cyclists and pedestrians. … Measures should be taken as swiftly as possible, and in any event within weeks, given the urgent need to change travel habits before the restart takes full effect. … Measures include: … Modal filters (also known as filtered permeability); closing roads to motor traffic, for example by using planters or large barriers. Often used in residential areas, this can create neighbourhoods that are low-traffic or traffic free, creating a more pleasant environment that encourages people to walk and cycle, and improving safety.
Given the importance of speed, the Statutory Guidance goes on to explain various interventions by which these measures can be introduced without the usual pre-implementation consultation. For example:
Experimental: these are used to trial schemes that may then be made permanent. Authorities may put in place monitoring arrangements, and carry out ongoing consultation once the measure is built.
People are in favour of LTNs
Surveys in advance
A YouGov survey in 2020 found that 65% (rising to 79%, when people with no opinion are excluded) believe children should be able to play in the street without danger from cars cutting through.
Residents generally, including drivers, are in favour of keeping through traffic out of residential streets. For example Sustrans' 2019 report on Scotland found that of the people who live and drive in cities and towns in Scotland, 53% support restricting traffic that passes through residential streets (22% oppose).
In 2017 residents were consulted on a traffic scheme which would keep through traffic out of Clerkenwell Green. The 2018 report announced that of the 425 individuals that responded 82% indicated support for the proposals.
Surveys after implementation
Prior to its introduction, the 2015 LTN in Waltham Forest attracted a lot of opposition including accusations of improper consultations, but a judicial review in late 2015 concluded that the Council had consulted properly. The LTN was subject to an extensive review which found that
... all of the visitors surveyed had a positive opinion of the overall scheme with 84% stating it was very good. Only 1.7% of residents would scrap the scheme and revert back to the former layout.
In October 2020, after Lambeth had introduced five LTNs the Council reported being "inundated" with requests for more LTNs across the borough.
Attitudes long term
LTNs have been around for a very long time and, where they do exist, there are no efforts to remove them. This applies to large-scale LTNs such as at De Beauvoir in nearby Hackney (see below for more information), and also to smaller areas. The streets around our own Thornhill Square form an LTN and the residents there are not clamouring to receive through traffic again. The same is true for all the single streets which have been closed to through traffic (Brooksby Street, College Cross, Stonefield Street, Cloudesley Street, etc.). Anyone buying or renting a home would consider a cul-de-sac a big plus. It was noticeable in our own 2020 survey how many people, when asked what they liked about the street they lived in, referred with delight to living in a cul-de-sac. This was true even among those responders who strongly opposed the Council reducing the through-traffic in the area.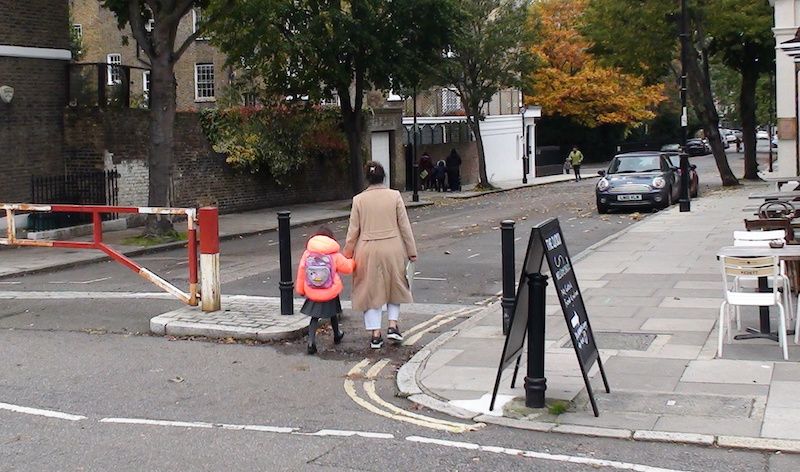 On-going Consultation
Once the Council understood the Government's approach to avoiding post-lockdown road chaos, they reached out to residents asking us all to share our local knowledge so that changes to the streets can be the best possible. This is managed through the Commonplace map set up in May 2020. As of 17 October 2021 they had received over 5,400 comments from people who care about the streets in Islington. This was a rather unwieldy way of gathering views and in March 2021 they closed Commonplace, saying: "We are keen to receive more detailed feedback on each individual low traffic neighbourhood trial and so surveys for each scheme are now live."
You can find links to each of those surveys at our Call to Action.

As the Council designed the LTNs they began an on-going consultation with all three emergency services and they continue to listen to feedback from police, fire and ambulance services. The Council are also ready to meet with any group with concerns about the LTNs. One of the benefits of the temporary nature of the LTNs is that where there are real issues changes can swiftly and easily be made.
Due to the speed required, the Government recognised that full consultations in advance of implementation are not feasible. Experimental Traffic Orders are recommended and that is what Islington is using. 12 months into each scheme the Council will formally consult the people local to each LTN, giving them the chance to say whether they would like the measures to stay in place permanently (and in addition, surveys will continue throughout that period). It is known that any traffic scheme takes time to settle down, while the SatNavs and the drivers learn the new road layouts and people change their habits accordingly. Initially there will be vehicles holding up traffic while they hesitate or turn around; and other drivers will be confused and going through filters where they shouldn't. But experience tells us that this will all settle down and then we can all assess the new normal on our local streets. Do we like it, or do we want to return to how it was before? It will be different from how many will have imagined it. This process means that everyone will have seen the effect of the LTN and can respond from a position of knowledge rather than half-truths and scare-mongering. After a total of 18 months the measures will be amended, made permanent or removed depending on feedback from the formal consultation. If people decide to keep the measures there may be an opportunity (depending on funding) to enhance the public space with permanent features such as greening, tree planting and play-spaces.
Summary
The LTNs are being introduced by a democratically-elected Labour Council who were elected to carry out measures of this type. Our democratically-elected Conservative Government is urging the Council to implement LTNs. Wherever and whenever they are introduced, LTNs, big and small, receive strong popular support. There is no reason to believe that Islington will be any different. Our Council is implementing the LTNs exactly as recommended by the Government: installing the schemes quickly and then consulting formally. And from day one, and all through the process, they are listening to residents and essential users of the streets to ensure these schemes are the best they can be. Each scheme will be the subject of a formal consultation after it has been in place for a year. This process means that we will have seen the true effects of the LTN and can respond from a position of knowledge rather than be guided by speculation.
April 2021: A recent DfT report, Road Traffic Statistics, 1993 - 2019, shows how the traffic on London side roads has increased since about 2009. Other graphs show that over the same period traffic on London main roads decreased, though not by anything like as much. This change is generally attributed to the use of sat navs. The increase on side roads is huge, 72%. The point is: no one was consulted on this. Residents were not asked if they wanted this additional traffic passing along their streets. It just happened.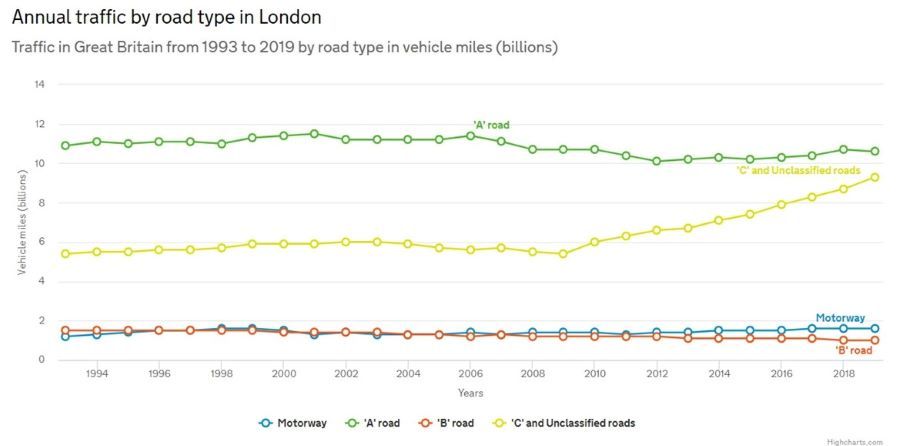 April 2021: We've enjoyed looking at the results of the Redfield & Wilton survey, entitled (spoiler alert) 'Steady Support for Low Traffic Neighbourhoods in London'. The headline finding is that, however you cut it (age, gender, education, voting, own a car, live in an LTN, etc.) the proportion that support LTNs is always significantly greater than those opposed.
The data is beautifully presented allowing you to look at the results from many different angles. We spotted that, of those people who own a car, 22% don't know whether they live in an LTN or not. And, of those people planning to vote for Shaun Bailey (Conservative) who is standing on an anti-LTN ticket, only 25% are opposed to LTNs, while 46% support them.
The graph below gives 3 bars: one for those people who live in an LTN, one for those who don't, and one for those who don't know; and each bar shows, for those people, whether they support (blue) or oppose (pink) LTNs. There is significantly more blue than pink.
April 2021: Hackney Cyclist have an interesting post giving the history of the filtered permeability in De Beauvoir Town. The local residents campaigned for the filters in the early 1970s and they were implemented in 1974. This was at the same time that demonstrations were also taking place in Amsterdam on the same issues. We don't understand why Amsterdam's campaign was so successful and ours achieved so little, but the De Beavoir area is a wonderful demonstration of what can be achieved with a few bollards. The residents said what they wanted and once implemented everyone loved it. There would be uproar now if anyone suggested removing it.

April 2021: A recent YouGov survey showed continuing support for LTNs:
Question: "Since last year's lockdown, many London boroughs have put in place 'low traffic neighbourhoods' that restrict the use of motor vehicles by reducing through traffic on residential streets. Generally speaking, do you support or oppose the introduction of 'low traffic neighbourhoods' in London?"

Result: Support was expressed by 52% and opposition by 35%.
Sources
Islington Labour Manifesto 2018
Mayor and TfL: Livable Neighbourhoods Programme Guidance May 2019
Government: Statutory guidance Traffic Management Act 2004: network management in response to COVID-19 Updated 23 May 2020
Government: £2 billion package to create new era for cycling and walking
YouGov Survey 2020 shows the public is overwhelmingly in favour of measures to encourage walking and cycling
Sustrans, Scotland - Reducing Car Use, 2019
Clerkenwell Green Consultation Report 2018
Waltham Forest - reference to 2015 judicial review
London News Online 9 Oct 2020 reported: Lambeth council "inundated" with requests for low traffic neighbourhoods across borough
Waltham Forest – page with links to various parts of the extensive 2017 review
DfT report, Road Traffic Statistics
Steady Support for Low Traffic Neighbourhoods in London, March 2021, Redfield & Wilton
The history behind the filtered permeability in De Beauvoir Town