As part of the Nurture series, Rachael Swynnerton of Islington Clean Air Parents and David Harrison of Islington Living Streets walking charity and co-founder of Footways London have teamed up for a series of family friendly seasonally inspired walks. The walks are guided by David and the i-spy game is created by Rachael.
Join us for the next Family Nature Walk on Sunday, 22nd May as we explore Highbury and Islington's largest nature reserve with a guided tour, i-spy game and activities for children to enjoy.
About the last walk
My children and I had the pleasure of planning the i-spy game with David and his lovely wife Sarah. Our previous walks had been through many of the People Friendly Streets in Canonbury and St Peter's, the streets were noticeable safer and the air much cleaner. Currently this is not the case for the Cally, Barnsbury and much of St Mary's.
On Sunday 20th March we gathered on a sunny afternoon in Kings Cross for our Spring walk. This was the third in the series of seasonal family walks and part of the Nurture events programme. We began at Camley Street Natural Park, near Kings Cross Station. It's spectacular to see that wild green spaces can nestle within even the most urban environment – nature really can flourish when it's given a chance!
It was my children's natural curiosity that inspired me to create an i-spy scavenger hunt to make walking more interesting. Sharing the idea with more children is a lot of fun, they are so inquisitive and keen to learn. It's lovely to see their excited smiling faces as they explore, which is becoming safer and healthier to do through areas with lower traffic. We look forward to seeing more traffic reduction across the borough.
Excited children with clipboards in hand began the jam packed i-spy scavenger hunt. We walked along the canal through Lewis Cubitt square and an ornamental gardens. Then a stroll across to Crumbles Castle in Bingfield Park, a wonderful example of the long history of community action and positive change in Islington.
Walking in Islington is fun, there are lots of unusual things to see, said Louis (age 9).
Our next stop was at a more recent community project, Cultivating the Cally, in Freeling Street. In this pocket park, the tarmac has been transformed and instead of being filled with parked cars it has well-cared-for planters and a beautiful piece of public art commissioned by Islington Play Association. Children played in the flower painted street filling the space with absolute joy. This is such a wonderful example of how we can use streets for people instead of storing cars.
We headed into Barnsbury to take a closer look at the architecture of the West Library and check out the mini-library outside Thornhill School. We found the smallest nature reserve in Barnsbury wood, a secret passageway to Upper Street, lots of spring flowers and blossom trees.
We finished in Cross Street, the latest People Friendly Street, with a well-earned cup of coffee at the Italian deli, Angel Delicatessen. Homemade biscuits were quickly snapped up by hungry children before setting off home. One parent commented "My children will sleep well tonight!".
David Harrison, London Footways and Islington Living Streets, commented:
It was a joy to join Islington Clean Air Parents (and children) in exploring a wonderful new walking route which links King's Cross with the Cally, Barnsbury and Upper Street. The new zebra crossing on York Way has made a huge difference. We are really looking forward to improvements to Bingfield Park and the path through the Bemerton Estate.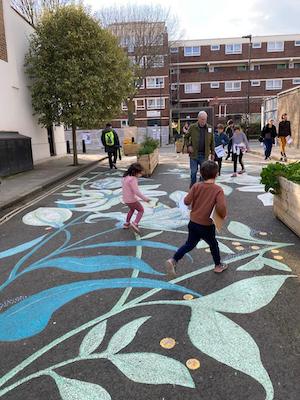 These areas have such fantastic access on foot around Islington and in to the city. We hope plans to make them safer and healthier for walking go ahead without any further delay so that many more children can enjoy the benefits of walking in safe and pleasant surroundings.
Both Living Streets and Islington Clean Air Parents were delighted to share the benefits of walking with families and young children. Walking is not just about getting around – it's also a chance to get some exercise; chat with friends and family and enjoy your surroundings. Walking also improves mental health and children's ability to learn. Streets that are safer and healthier for people to walk, cycle, wheel and scoot are more pleasant for everyone.
Motor vehicle traffic accounts for 50% of air pollution in the borough, which is bad for our health, especially for children because it stunts the growth of their lungs causing life-long health issues.
However, one-third of journeys are under 2km, which is easily walked by those who are able. Luckily, there is huge potential for walking in Islington and it  plays a significant part in tackling air pollution and climate change.
Join us for our next family nature walk through Highbury and Islington's biggest nature reserve.
BOOK NOW! for the 22nd May 2022, Spring Family Nature Walk
To register for this and other events please follow our Nurture series which ICAP is running in collaboration with Inspiring Sustainable Islington.