Alex has lived within the Cloudesley area of Barnsbury for more than two decades. His late wife Maggie, he tells me, was involved in an earlier campaign to reduce the numbers of motor vehicles.  More than 25 years ago she and her neighbours were suffering the impact of increasing cut-through traffic.  "Our secondary glazing was installed because of the noise."
Alex suffered a stroke in 2013 and was then impacted by a second stroke in June this year.  These have led to extreme fatigue and very poor balance.  "I couldn't walk 100 metres.  Falling over is at the back of my mind."  
Following recovery from this second stroke Alex has been able to access local shops again.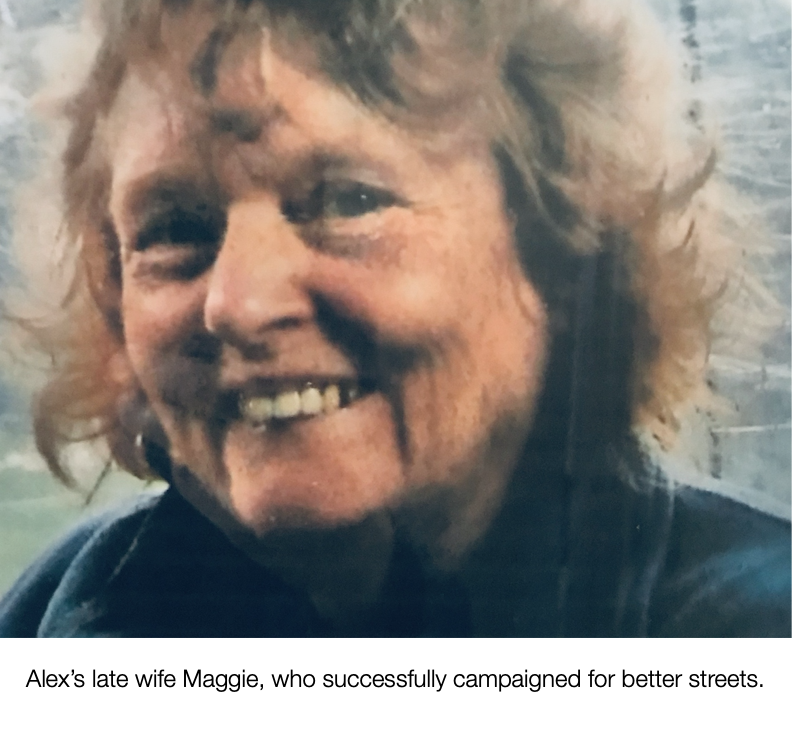 The period of lockdown when local roads were quieter made shopping trips much more pleasant.  "You did not need to look so much.  You could just walk.  It was lovely.  I liked that".
Alex also appreciates the increased space for pedestrians on Liverpool Road as part of the borough's Covid19 measures.
However the cramped conditions on the southern pavement of Liverpool Road, which has not been widened as traffic has not been restricted, has meant he has felt safer avoiding this section.  "I feel apprehensive walking on the Angel Centre side of Liverpool Road.  You have to go close to people."
Alex suggested that since Low Traffic Neighbourhoods provide more safe space for both pedestrians and mobility scooters this would increase safety for the vulnerable.  "It would be good for elderly people to have a bit less traffic."
For regular trips to hospital, Alex finds that taxis are very helpful and we discussed how these trips might be affected when People Friendly Streets are implemented in the Barnsbury area.
Alex currently walks the short distance to the taxi rank in Tolpuddle Street to find a cab for the journey.  As all homes will still be accessible by taxi Alex knows that he can arrange a taxi from his door if he needs to.  "It would have very little effect on me".
Currently Alex needs to allow an hour for the short taxi journey to UCLH.  "Euston Road is always bad."  We discussed the other options which would be more appealing on quieter streets, such as the increasingly popular Pedal Me cargo-bike taxi service, which would make the journey both faster and more reliable.
As someone concerned about the environment and global heating and having already had solar panels installed several years ago as a result, Alex is very keen for more sustainable modes of transport to be encouraged. "There is still a lot of potential to be exploited."
We agreed that People Friendly Streets will transform travel for Barnsbury residents.