I have known Rollo who recently founded Nourished Communities for several years now, having been a regular customer of his at the farmer's market in Chapel Market. I was keen to speak to Rollo to ask him for his thoughts on the People Friendly Streets initiative. As I walked towards Canonbury Lane, where Nourished Communities is currently based in the St Mary's Church area, I noticed that by fortunate coincidence the street had been temporarily closed to motor traffic due to road works. The street was unusually calm and peaceful as I walked across the road towards the shop. It felt like a pre-trial of the forthcoming trial that the council promised will be coming to this area early in the new year. I had an opportunity to witness what this beautiful little area could be like without the high volume of motor traffic which usually dominates this street. About five years ago I talked to a local business owner on Canonbury Lane who felt there was a big opportunity for higher footfall if the through traffic was removed. She closed her business not long after I spoke to her.
Rollo began Nourished Communities 7 months ago in response to the first lockdown.  Back in March at the start of the first lockdown, Islington Council barred all open markets from opening. As restaurants and pubs were also closed at the time, there was suddenly an even greater reliance on supermarkets for food. This led to shortages on shelves as supermarkets struggled with the panic buying and the additional demand for food.
Rollo had worked at the farmers market since he was 14, building up a strong group of connections both with suppliers and local customers. When he heard that his customers from the stall he used to work at were scared about food shortages and knowing that suppliers of the farmers market were unable to sell their produce, he struck upon an innovative idea.
At first Rollo began delivering food from Perry Court Farm, who sell pesticide free fruit and vegetables, to his old customers. As time progressed, he collaborated with other farms to expand his offering. In order to store produce such as milk he moved his operations to the Sekforde pub in Clerkenwell. After fortuitously bumping into one of the co-founders of Coexistence, a furniture store on Canonbury Lane, he was kindly offered to use that space, allowing him to expand further. This is where Nourished Communities is currently based.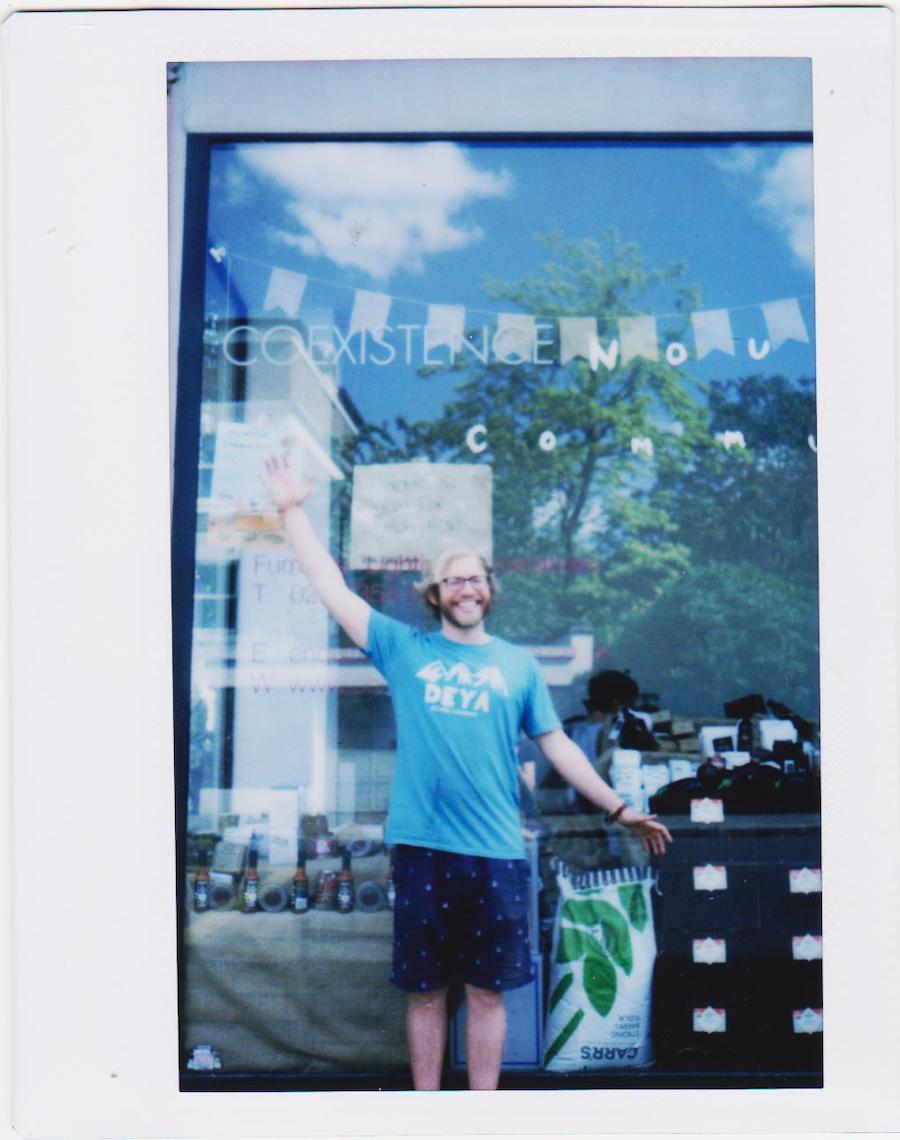 According to Rollo:
Customers remember how reliable Nourished Communities were when food stocks were low in March.
He said they have in turn been rewarded by their loyalty 7 months later.
Speaking to Rollo, it is clear how important it is for him to support the local community. It was fantastic to hear of the support he has had in return. For example, local people have provided paintings and drawing as well as volunteered to help in the shop. He writes a weekly newsletter featuring local businesses and activities and has donated food to charity. More recently Nourished Communities raised £500 for Akwaaba, a Hackney-based social centre for migrants.
Looking around the shop, there is the familiar looking choice of seasonal fruit and vegetables I recognise from the farmer's market. There is a fantastic selection of grains, dried food, meats, cheeses and exciting preserves. They also offer an opportunity to reduce food waste by providing refills for laundry products and oils. The shop is open between Wednesdays and Sundays and it is possible to order online with next day deliveries across the UK. They are currently taking orders for Christmas hampers (last order 21st December).
Rollo said due to the current temporary roadworks, a possible precursor to how the street may be filtered by the council,
it felt quite nice with no negative impact on his business.
This was great to hear. In the long term he feels People Friendly Streets will provide a significant opportunity to help build the community, whilst recognising there are some concerns from local residents and businesses. He is looking to work with organisations who can deliver by bicycles and is interested in developing pick up points for deliveries. He is really open to new ideas or any skills that people may wish to offer, recognising the skills and passions of the local community.
I felt Rollo is taking a pragmatic approach to People Friendly Streets, in a similar vein to how he has gone about building Nourished Communities so far. I think with so many uncertainties that sounds like a sensible approach. I am excited that such an innovative, forward thinking little business is located nearby and with the council promising to introduce People Friendly Streets to the St Mary's Church ward in the new year, I feel very positive about how this area's true potential could be unlocked. Rollo is such an incredibly friendly, open hearted person, so it is fabulous to see how he has used his connections to find an opportunity to serve the community at such an important time.
If you use the "Feed me" code on your first order with Nourished Communities you will receive a 10% discount.
Are you a local business owner/manager? Please get in touch!