Dear Neighbours
We heard about the amazing Islington Forest for Change project from Islington Clean Air Parents (ICAP) and just had to get involved. ICAP is appealing for crowdfunding, so we decided to create the opportunity for all the Low Traffic Barnsbury & St Mary's supporters to pitch in with donations.
Interested in knowing a bit more? Here goes...
ICAP is a grass roots network of parents and carers of children at schools across Islington in London. They work together with relevant authorities to significantly reduce air pollution below EU legal limits and create a healthy clean air environment for all children across the borough.
ICAP were inspired by the Forest for Change at Somerset House. This amazing installation, which was in London in June, was designed by artist Es Devlin when she found out that a 250 year old rule banned trees in its courtyard.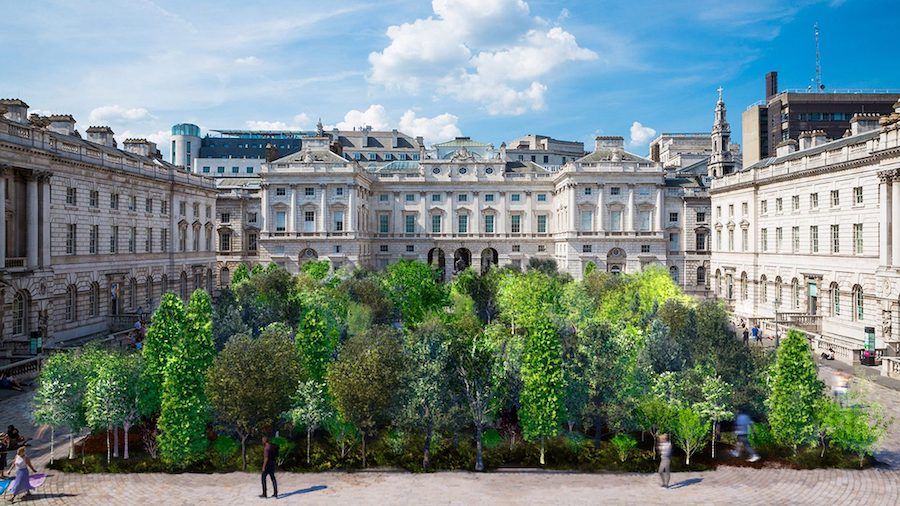 ICAP pitched to the Forest for Change team and persuaded them to donate 💚🌲💚 200 trees 💚🌳💚 from the installation to plant in and around Islington. Then ICAP collaborated with the Council, who agreed to look after and maintain the trees long-term as part of their public realm activities. ICAP is project managing and raising the funding to transport, look after and plant the trees by 2021 year end. They also have a whole host of outreach ideas to encourage enthusiasm and support for a greener community.
Now, we're all about LTNs. So why do we love this project so much? Well, LTNs are not just about creating safer, quieter and healthier streets through traffic management. They are also about re-imagining our public realm so that we can 💚live life💚, not merely exist!
We have a real opportunity to re-think how we use our community streets. We can improve our environment by making it a more attractive and healthy place for walking, cycling, wheeling and stopping for a rest or having a chat with neighbours.
Currently, only 13% of land in Islington is green space and many residents do not have access to a garden.
Trees make our streets more attractive and also provide many practical benefits. They help with our changing climate. An increased tree canopy can dramatically reduce the temperature in hot weather. Trees absorb water to reduce the risk of flooding. They absorb carbon dioxide which causes air pollution, to clean our air. They provide habitats for many insects and birds. Urban street trees are so important for our physical and mental wellbeing and make our daily journeys just a little more enjoyable.
We have already been busy finding locations for the trees. For example, Theberton, Studd and Moon Street have tree pits that have stood empty since 2015 (yes, 2015!). So the local residents banded together to sponsor five trees on the ICAP main crowdfunder. The trees have even been given names: Andy, Bandy, Candy, Dandy and Studd Andy. Although I have just noticed that this follows Bridgerton naming conventions... a coincidence?
As an interesting aside: when the existing trees were first planted in Theberton Street, each resident was asked what type of tree (from a carefully curated list) they wanted outside their front door. Which is why there is such a brilliant diversity of foliage on that street! 💚💚💚
If you have suggestions for empty tree pits or unloved urban spaces please email ICAP with a photo and location details. All of the locations (including the Theberton ABC tree pits) will be carefully vetted by the Council, who will match the right tree to each viable spot taking into account its environment and limitations, to make sure that each tree has the best possible chance of survival.
ICAP has just 11 days left to raise £15,000. If you can, please donate to show our support for this project!
Hope you enjoyed the sun this weekend. Bet you wished you had a tree to sit under... 😉
Low Traffic Barnsbury & St Mary's