Summary
Chaired by Jilani Chowdhury. Martijn gave a presentation on PFS – slides will hopefully follow so that we can share.  The overall mood was positive and informative.
Traffic stats – the Council will normalise the data in an attempt to remove the effects of COVID.
Highbury Corner review – was planned (in conjunction with TfL) for June 2020 but it was postponed due to COVID.
Highbury Corner – TfL are addressing some of the detrimental effects.
St Mary Church PFS – due 2021
Cycle route 27 (?) – they still need to "look at" the Amwell section.
Cycle route 38 – consultation planned November 2021.
Floating parking, e.g. Liverpool Road – this seems to be becoming common.
Map of Barnsbury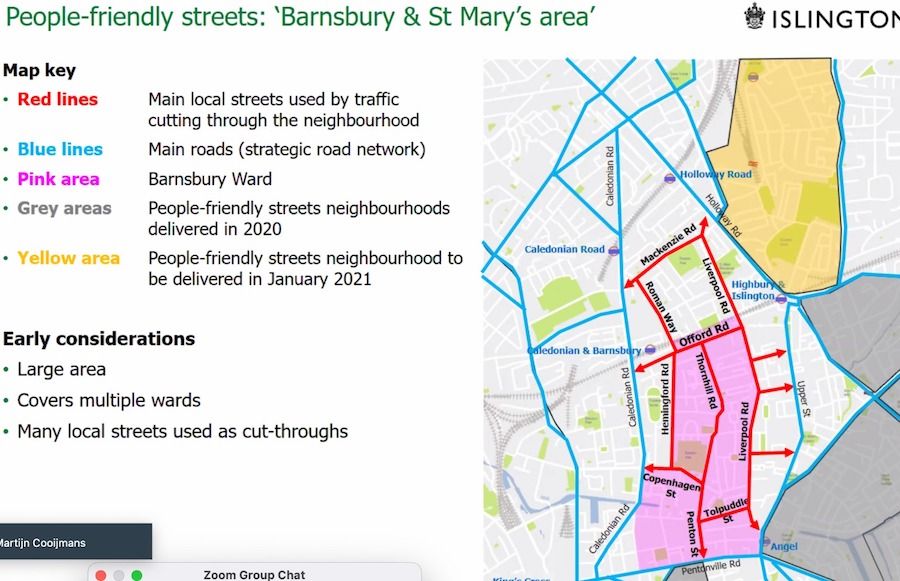 The roads marked red – we asked why Cloudesley Place is not marked red, response "there are more than those shown on map"
The Council welcome comments on this map.
The Barnsbury LTN may include parts of the Cally ward and the Holloway ward.
Toby Jones is the project manager for this LTN
Question time
Barnsbury timescales
We asked "when". Response: large and complex, learning from others especially Highbury which is also large. Better to get it right than rush it.
Commonplace
The Council has analysed the comments by counting up the number of "mentions". And the numbers make a good case for PFS.
"Road open" signs – please use
Response: The Council has to avoid clutter to ensure clear signage.  As and when planters are used "road open" signs would be appropriate attached to them.
PFS and cycling
Councillor Champion said that encouraging cycling is not the only purpose of PFS but she spoke at length about how less traffic leads to more cycling.
Bus route 153
Responding to our question: "we don't change bus routes". The 153 route will be retained.
Parking zones
In response to request to reduce the size of these zones: "no plans to change parking zones".
Motorcycles in existing filtered streets
In response to a public question: write to Martijn with specific problems. Councillor Champion said these roads were "quieter". (We think this is not correct, Commonplace and our Survey show that motorbikes, mopeds etc. are a big problem. We will follow up with the Council.)
Should over 70s newbies cycle?
Response: evidence says fine if streets safer. Also Council have training programmes.
Is Offord Road a main road?
Response: It is NOT a main road. That road is a known problem.  A result of road closures done piecemeal in previous decades, rather than the current holistic LTN approach.
PFS benefit the middle class
Councillor Champion gave a robust response to this question : she said she didn't understand this comment and referred to the low car ownership in Islington (70% of residents do not own a car).
Tolpuddle Street
This scheme was done fast, they are listening to feedback for quick fixes else it will be long-term.
Liverpool Road, section Barnsbury Street-Richmond Avenue
Done fast, a compromise due to impact on businesses, need time to engage with businesses and others.
Vehicle access across pavements
Response: Complex question (one for the Planning Department), will take away and answer.
Delivery hubs
Response: No plans yet but talking to neighbouring councils about freight. Referred to various things that the Council are doing for their own fleet and the use of Pedal Me.