Rachael Swynnerton of Islington Clean Air Parents teamed up with David Harrison of Islington Living Streets for a series of family-friendly, seasonally-inspired I Spy walks.
The next walk is coming up on Saturday, 20th May, 2023.
Rachael explains what inspired her to create I Spy family walks and why walking is good for our health and our environment.
---
On a sunny autumn afternoon a group of 53 adults and children, ranging from 7 months to 70 years, gathered for an I Spy family walk through Canonbury and Mildmay. This was out biggest group yet.
What are I Spy Family Walks?
As many parents will know children are not keen on 'going for a walk'. This was brought home to us during lockdown when our local streets became our playground and the most precious space for our daily walks. My children's natural curiosity inspired me to create I Spy scavenger hunts for our walks during that time. The idea was to make walking more interesting, and it really worked. We walked, talked and made some incredible discoveries along the way.
I was keen to share my experience with other families. The aim of the I Spy game is to encourage children (and adults) to look around, be curious and to spark conversation about their surroundings. There are so many interesting things in our streets and neighbourhood when you look close enough. Many adults who have joined us have been astonished how it opened their eyes to discover interesting walking routes and unusual sights that had previously gone unnoticed.
When we think of walking, our focus is often on the final destination rather than the journey itself. The journey can be just as enjoyable, but only when streets are not dominated by passing vehicles. Streets that are safe and pleasant for children are safe and pleaseant for everyone to enjoy.
This is the second year we've been exploring Islington with our I Spy family walks. Each time we take walkers to walk through a different area of the borough. We focus on areas with low traffic, which enable us to enjoy walking together.  Adults and children can relax in safer and healthier streets and look around as they play our I Spy game. The walks always include hidden routes and green spaces such as parks, playgrounds and community gardens. We have also enjoyed taking a closer look at the wildlife within The Ecology Centre and Camley Street Natural Park.
Walking is good for our health and the environment
Transport is the UK's largest contributor to greenhouse gas emissions; cars are the biggest part of that.  In Islington motor vehicle traffic accounts for 50% of air pollution, which is bad for our health especially for children because it stunts the growth of their lungs causing life-long health issues such as asthma.
Luckily, there is huge potential for walking in Islington and it plays a significant part in tackling air pollution and climate change. One-third of journeys currently taken by car are under 2km, which is easily walked in under 25 minutes by those who are able.
Exploring Canonbury and Mildmay
This time our walk took us through Canonbury and Mildmay wards. We set off with our I Spy sheets in hand.  We discovered the most magnificent ancient tree in Canonbury Place before meandering along New River Walk across a stunning carpet of pink and yellow autumn leaves. This wild space was alive with the sound of bird song.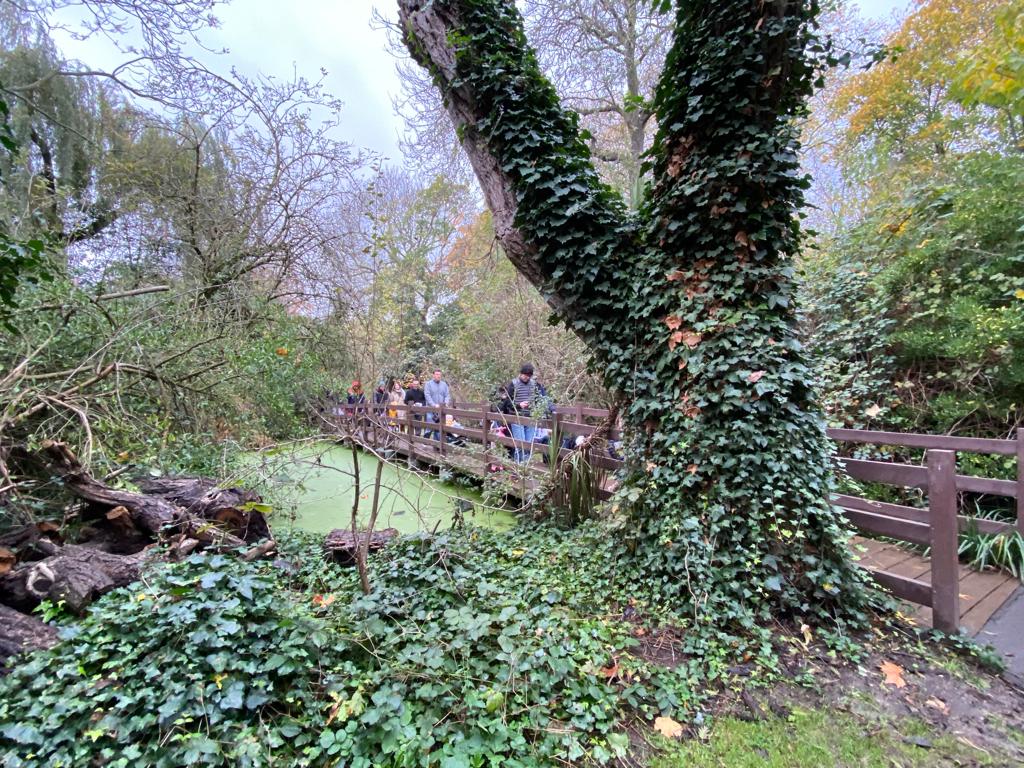 We stopped off in a hidden playground at Nightingale Park, then continuted as our I Spy game finding stone pelicans, a commerative plaque and some well-cared-for tree pits. Finally, we entered the Dover Court estate, where we were greeted by a wonderful redesigned green open space. The children's faces lit up as they spotted the climbing rocks and the most amazing green slide. The area was filled with trees and shurbs.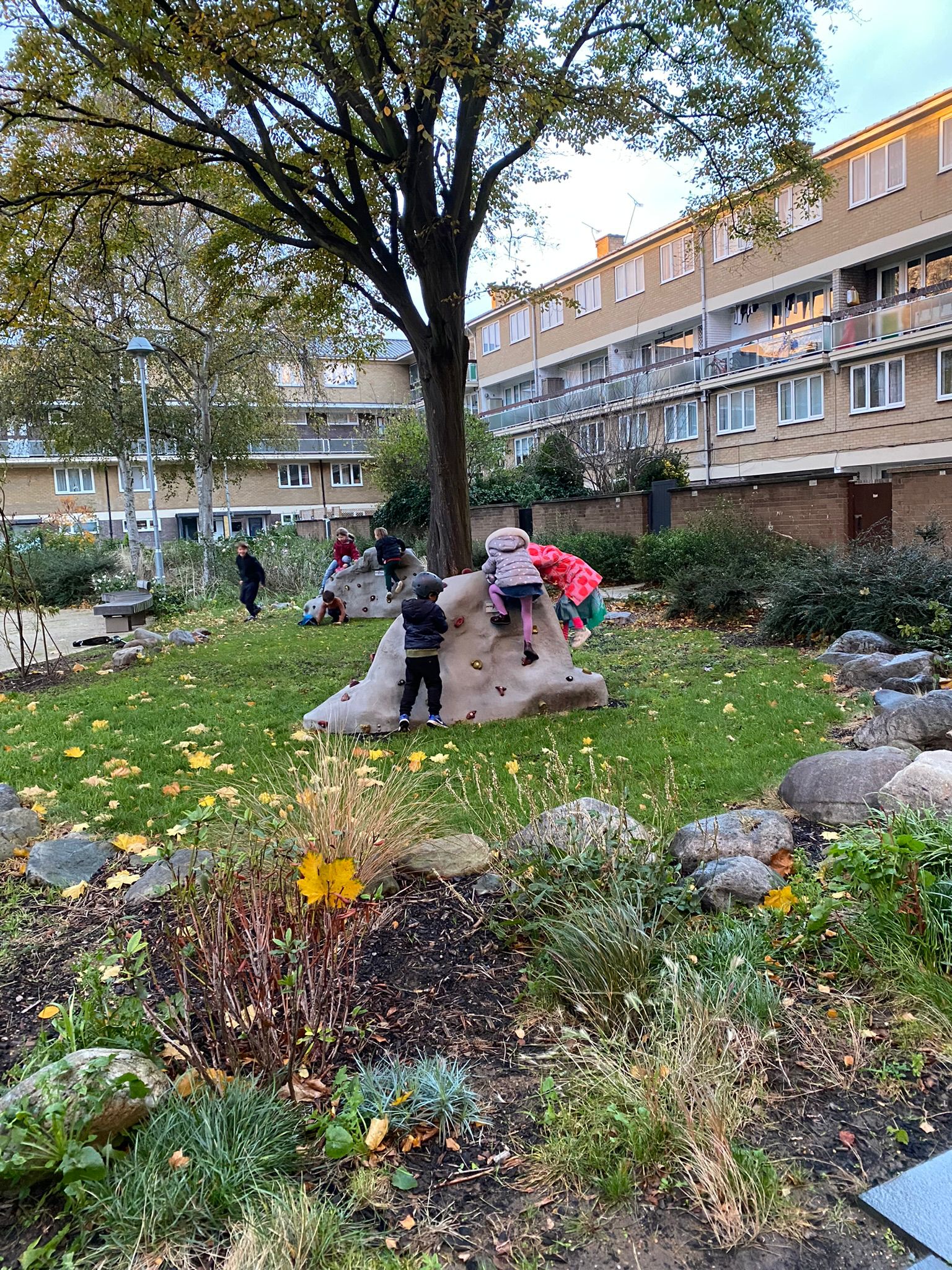 Next stop was Mildmay. There was an marked contrast as we travelled from the Canonbury Liveable Neighbourhood with it's people-friendly streets and into Mildmay, which felt heavily dominated by traffic. It suddenly became noisy; the air was dirty; the chatter and laughter died down as parents and children focused on the potential risks from road danger.
It was a welcome relief to reach our destination, the wonderful King Henry's Walk community garden. Hungry walkers wolfed down biscuits as they enjoyed this incredible space, with it's pond and mini-allotments all with their owners unique character. It even has a small wild wood that is just for wildlife to flourish, people rarely enter. I love this idea, in an area as densely populated as Islington it's not much to ask that we give some quiet spaces back to nature.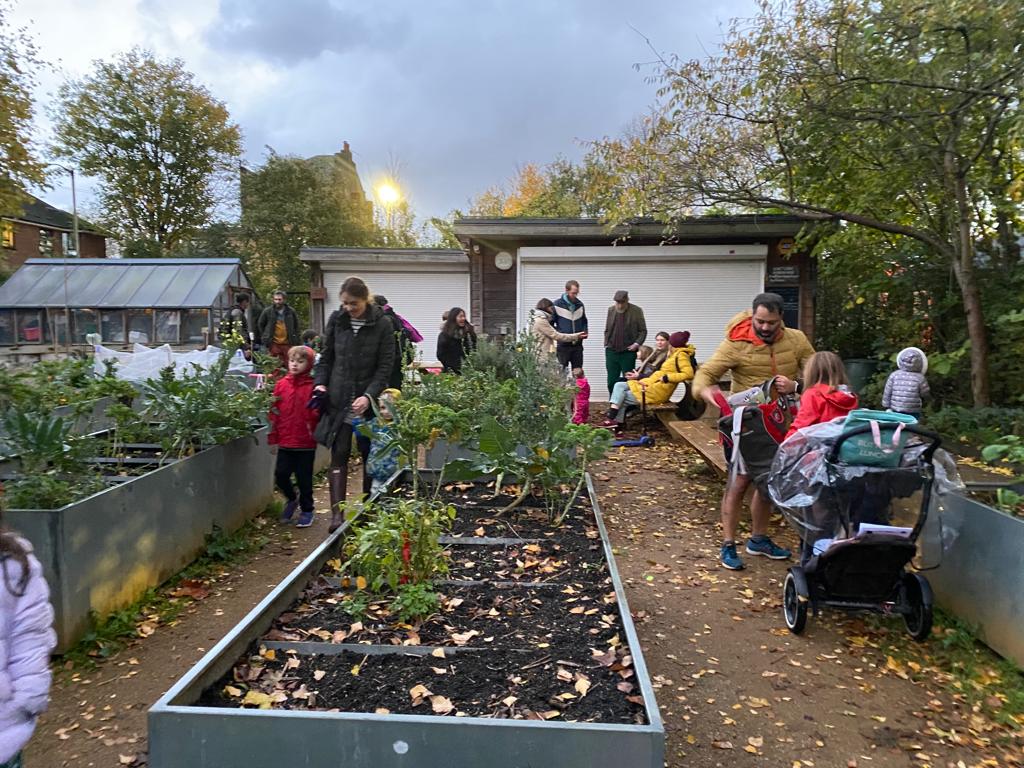 Islington Council are currently working on Mildmay Liveable Neighbourhood. The design proposals are available for consultation until midnight on 16th April.
Please take 2 minutes to complete the survey and show your support to improve this part of our borough.