Thank you to those all those group members and neighbours who attended the two meetings highlighted below and provided careful and detailed notes. I'm reporting on the basis of those notes as I wasn't there - it was one of those days when you think you have a to-do list of 5 items, and your inbox promptly and catastrophically tells you that a '0' should be tacked onto the end of that '5'.  😬
...and you can see from the publish date of these notes that those 50-item days have continued for some time! 'nuff said. Onwards.
We attended the Environment and Regeneration Scrutiny Committee meeting on 4 February. This was a committee meeting held in public, not a public meeting. People may submit questions that may make an appearance and get a response.
Question: Ben Griffith read out a demand that the Scrutiny Committee measure the Council against their commitments to the environment: the climate emergency, their strategy paper Vision 2030, their Net Zero commitment. We need specific interim, dated targets and currently they are not clearly defined.
Response: Keith Townsend replied that in these early days the Council is moving from strategy to working method, getting investment in place, designing feedback methods.
Question: John referred to minute 412 of the meeting held on 17 December 2020 at 7.00pm which states:
The Chair added that the issues relating to Clean Air had been followed up since the last meeting, and that in regard to Low Traffic Neighbourhoods and Safer Streets scrutiny had had an involvement in this, and discussions were continuing. The Chair also referred to the special meeting of the Committee arranged with stakeholders and the public, and that this had been arranged for 30 March.
Barnsbury and St Mary's Neighbourhood Group - a local residents' group which is campaigning hard in support of the Council's People Friendly Streets policy -  believes that the timetable for implementation of all LTNs, and particularly Barnsbury & St Mary's, should be published well in advance of the intended implementation date. Can the Scrutiny committee either tell us now what the planned implementation dates are or, if not, direct the Environment and Regeneration Committee to publish these planned dates at the earliest opportunity and, anyway, no later than the meeting arranged for 30 March?
Response: Keith indicated that they don't yet have a date, but they are working hard. They will get in touch with all groups as soon as we have a date. Thank you everyone for all your support.
My thoughts: all good stuff, all as expected, marvellous. We're just impatient. More! Faster!  😉
We attended the St Mary's Police Ward Partnership meeting on 4 February 2021 (yes, same day as the meeting above). Chris kindly provided the notes copied below.
St Mary's Police Ward Panel Meeting 6pm
St Mary's Ward Partnership Meeting 7pm
Present: Cllr Turan Nurullah, Cllr Angela Picknell, Sarah Armstrong (organiser Islington), Jonn Brown (Police Ward Sargent), Karen Thomas (traffic team), Eshwyn Prabhu (traffic team), Katerina (TfL), Christine Lovett (Angel.London rep 600 Islington Businesses), David Gibson (head Islington Society)
Public: Chris Procter, Bradley Cordes, Charles Anthony Wood, David Allardice, Elodie, Francis Cairncross, Michael Jacobs, Julia Vellacott, Mariana Patti, Rachel Oliver, Roger Mears, Sally Jones, Toby North, Tom Sams, Simon Izod, Lucy Facer, + 8 more I didn't get names.
Chair: Cllr Turan Nurullah
Police Ward Panel 6pm
A member of public asked what was the difference between Ward Panel and Partnership Meeting. Sarah A explained Ward Panel is a local committee that meets on a regular basis made up of members representing various groups such as Residents Associations or Business groups. St Mary's had not been very active with usually only 7-8 people attending so she asked people interested to give her their email. Ideally Panel members should represent the wide community. Several people volunteered. C Procter indicated an interest. Ward Partnership meetings are larger public meetings held less frequently.
Christine Lovett spoke to the concern of businesses about the problem of Mopeds on Upper Street near St Mary's Church for delivery apps such as Deliveroo. Also, a problem at Highbury Corner near McDonalds. Police Sargent Jonn, said efforts have been made to disperse the bikes.
Michael Jacobs who lives on Laycock Street mentioned the problem of mopeds riding fast up on pavement to avoid the Laycock filter. Dangerous to pedestrians esp at dusk when deliveries for dinner made. He asked that the filter be redesigned. A suggestion was mentioned of staggered gates on the pavement so one has to demount from a bike, like the ones near the Town Hall on Richmond Grove. Gap for wheelchairs and cycle delivery.
Drug use in St Mary Magdalene gardens.
Mopeds around Compton Terrace (Upper Street Association)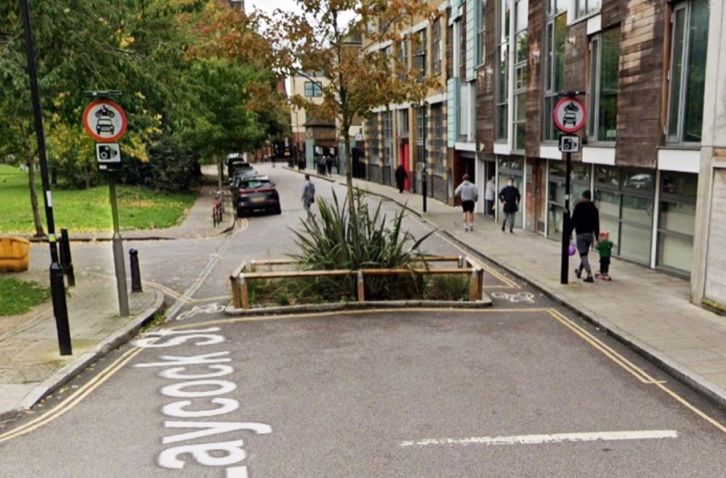 Edit added photo for clarity, Laycock Filter.
Ward Partnership 7pm
Presentation of PFS LTN slides.
Same set of Slides we saw at Highbury meeting. Theory of PFS. Traffic growth in Islington. Several new slides for Commonplace data on St Mary's Church and Barnsbury. These were shown because both LTNs fall within St Mary's Ward.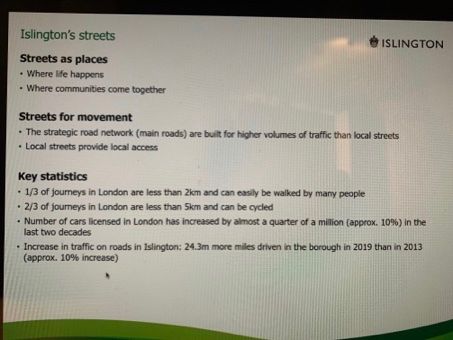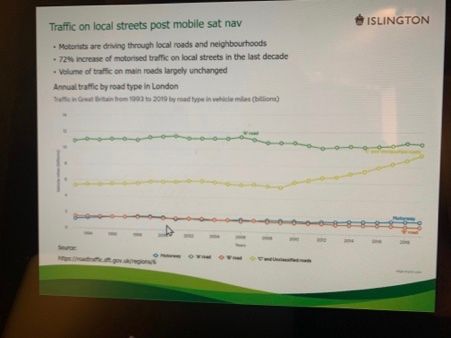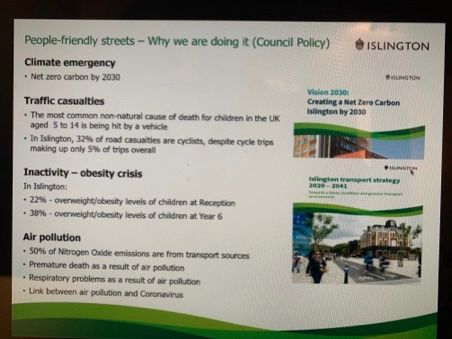 TWO New slides Issues for St Mary's Church  (data to build case)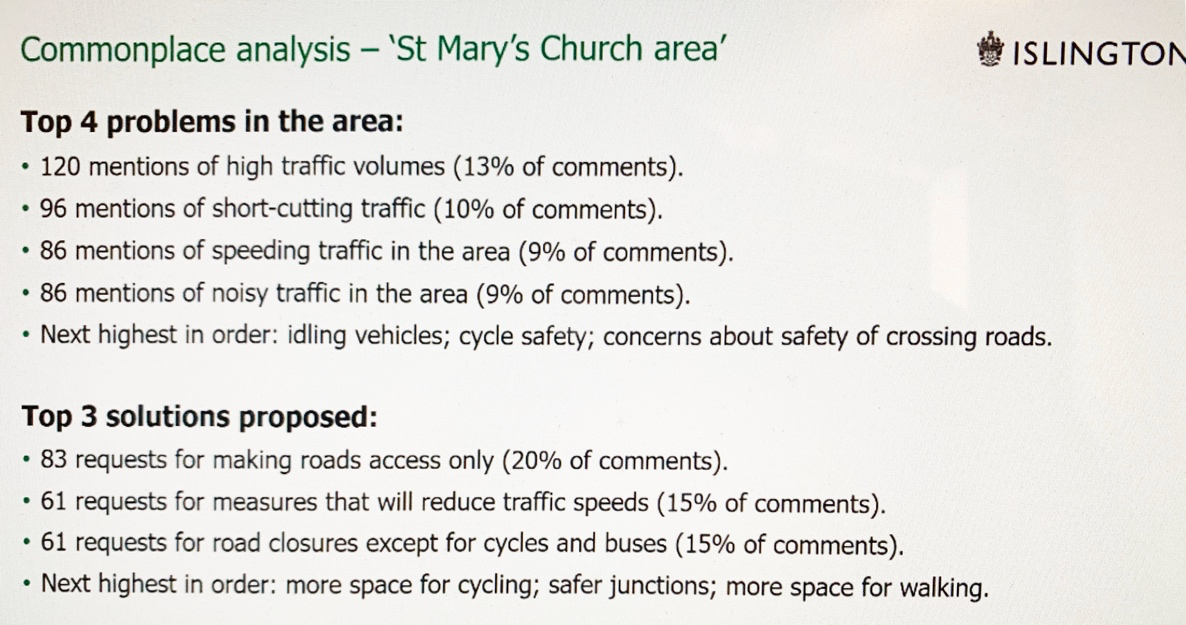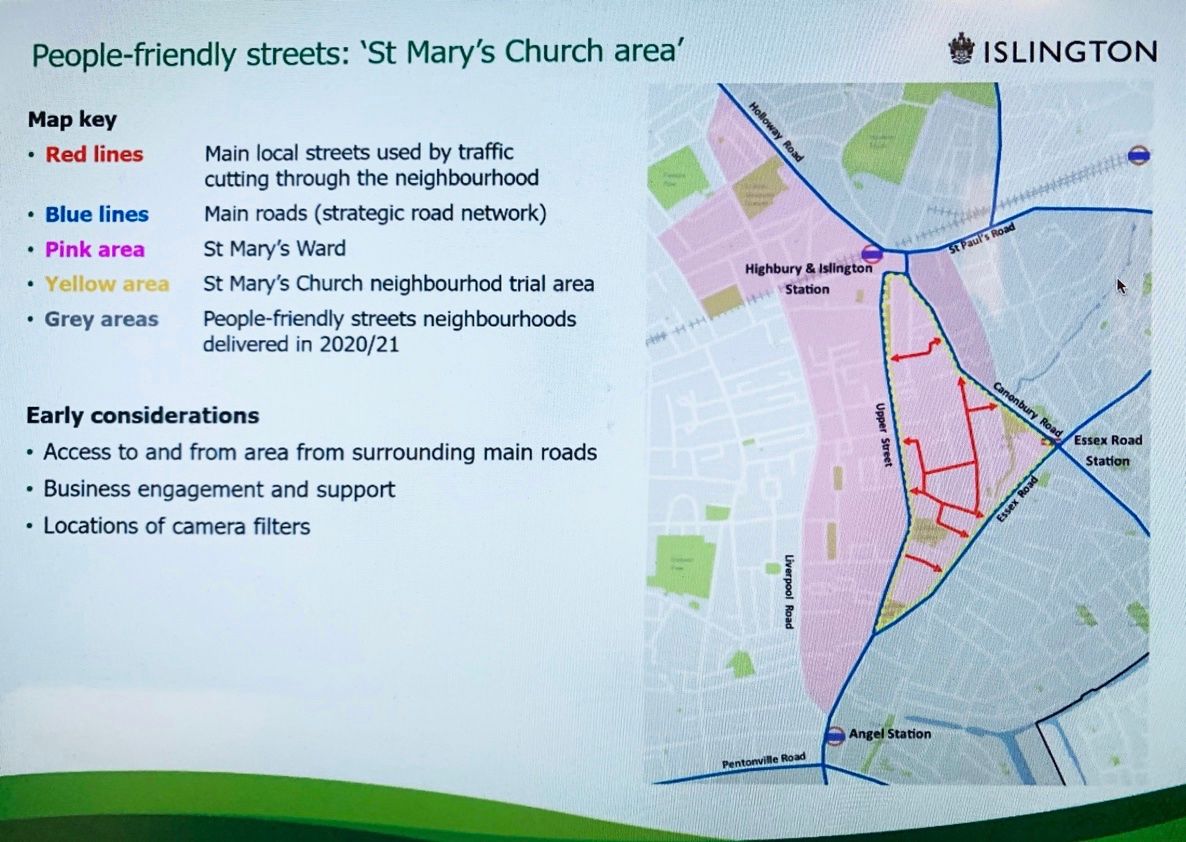 TWO New slides Issues for Barnsbury Church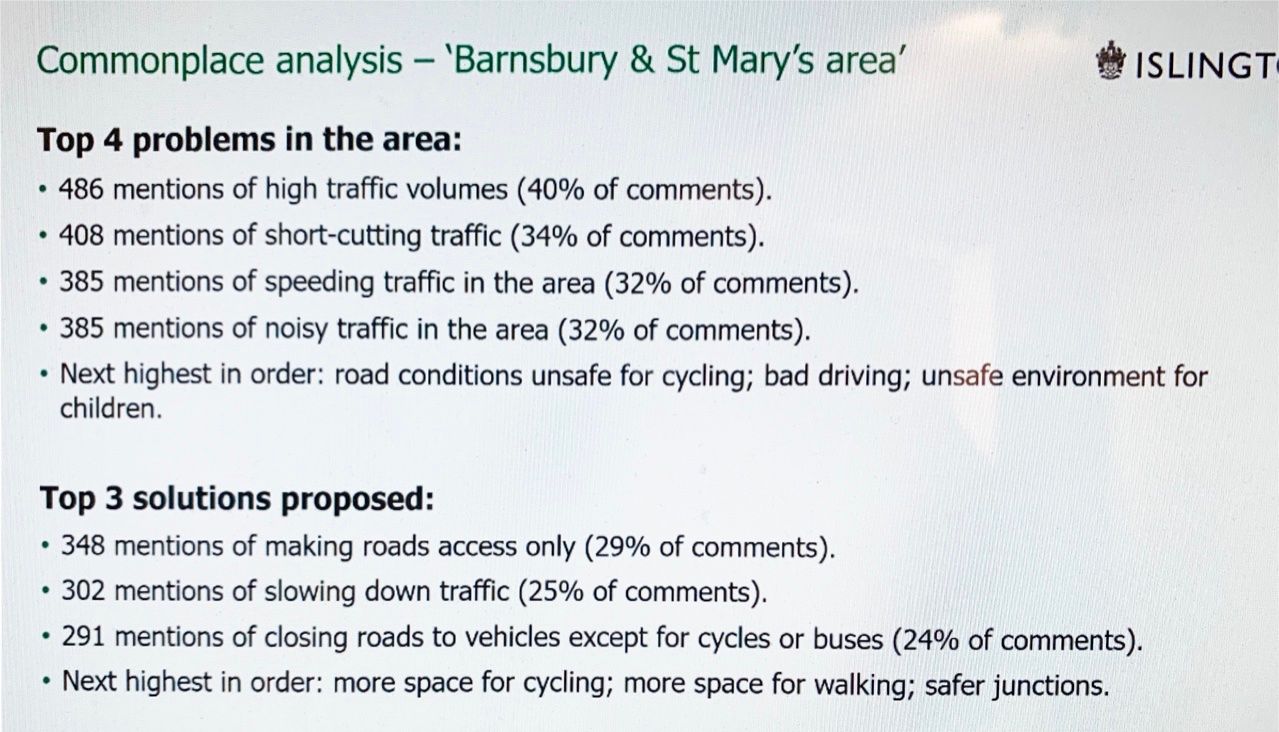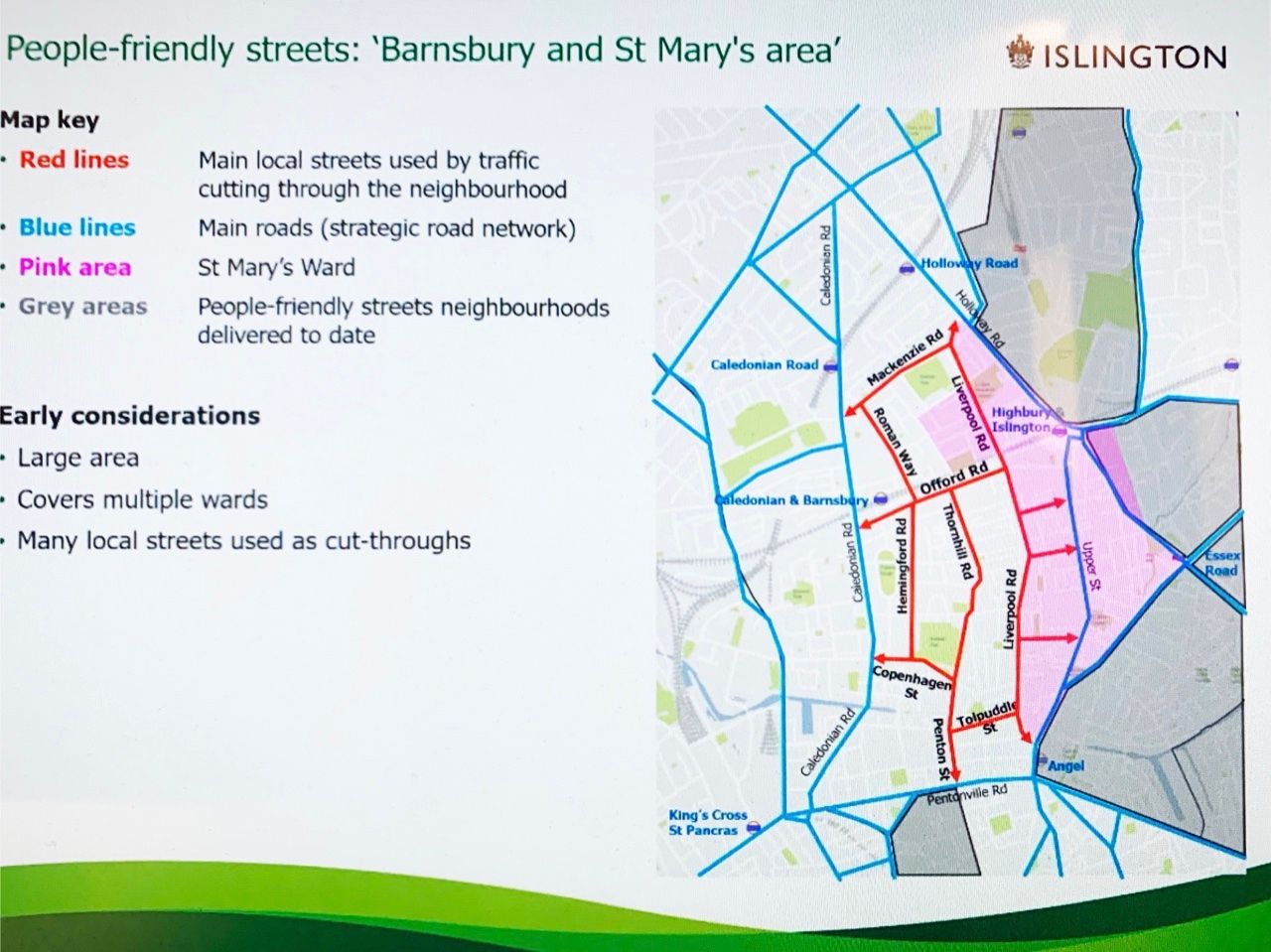 Most of the hour discussion was on these the two St Mary's future LTNs.
Council indicated St Mary's Church and Cally LTN were the next but could not set a date.
Barnsbury LTN was further away as it is more complex.
Cally was already funded with monies from before Covid from developers Section 106 and CIL.
When Chris asked if funding in place, Eshwyn said LTns are not expensive.
Chris asked if they had received the 2 LTN filter mappings the Barnsbury St Mary's Neighbourhood Group had sent. Eshwyn said they had and were grateful for our input as coming from local residents.
Lucy asked if they could give some indication of when Barnsbury LTN might happen as there was so much increased traffic on Liverpool Road. Lots of discussion of traffic increase in Barnsbury which they understood but no commitment on dates.
Highbury Corner improvements had the effect of increased traffic around, Compton Terrace, Compton Ave, Canonbury Lane and Liverpool Road.  Question asked about the effect on air pollution. Traffic number data from projections may not be updated to current situation.