Dear Neighbours
Well, that was a lovely hot and sunny interlude last week! 😎 Thank goodness we have our cool and soggy English weather back, because I was literally melting as I sat at my desk. And when I moaned about it to a Spanish friend, he told me they were sitting in 40ºC heat. Good grief.
Welcome back to another newsletter after a long lull. Since we last updated you, we have been ramping up our calls to bring 💚 LTNs 💚 to Barnsbury and St Mary's wards, and we have also been busy with various projects.
Close to our hearts is our support for Islington Forest for Change, ICAP's amazing project to increase tree canopy in our borough. Our Barnsbury & St Mary's support fundraiser is now at £310, 41% of our target. And the main fundraiser is at 91% of its £15,000 target! Please do help if you can.
Inspired by the energy of the Offord Road ultra-local group, we decided to get factual and set off on a traffic counting spree that had us up and about in the morning looking very official with clipboards and everything. The local press covered our findings, which were conclusive:
Offord Road carries three quarters of the traffic on the Caledonian Road, and the roundabout is taking 111% of the traffic on the Caledonian Road.
And our McKenzie Road count over an equivalent 30-minute morning period found that:
the numbers were very similar: 232 active travellers and 246 motors.
So let's make sure that we enjoy those public spaces which are not plagued by pollution and noise. Why not get out this Sunday 25 July for a short (or longer) walk around some of Islington's lovely parks? There are some self-guided walks (and cycle rides) here, with maps of the parks as well as a map to find your way from one park to the next safely and pleasantly.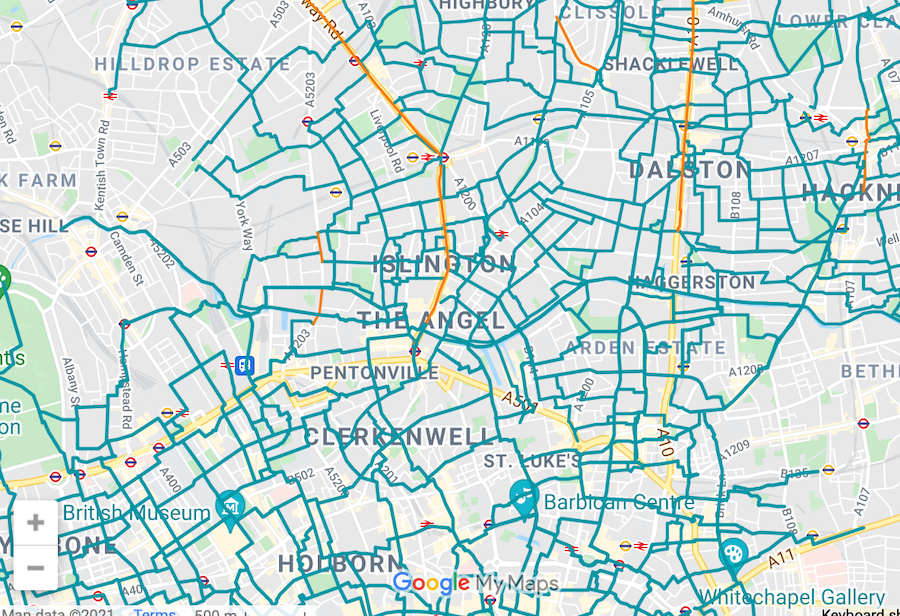 If you prefer digital rather than physical meandering, here's some choice links to get you going:
The Guardian highlights research by experts at London School of Hygiene and Tropical Medicine, Westminster University and Imperial College London analysing police data for London neighbourhoods:
Road injuries halved in low-traffic neighbourhoods installed during the coronavirus pandemic when compared against areas without the schemes, a new study has found. The improvement in safety is more than twice that created by 20mph urban speed limits.
We found this interesting piece about the benefits of car clubs. Given that I have a Zipcar about a second and a half's walk from my front door, I'm certainly in favour.
And extrapolating to commercial vehicles, this article highlights a recent test of the use of rail to deliver freight. We're coming full circle to the late 1700s and early 1800s - do you remember learning about the Industrial Revolution in school? Except now we're gonna be Bigger, Badder and Better with Class 319 rolling stock.
Getting a bit dark for a moment, we saw this disturbing article about the Amazon rainforest becoming a source rather than a sink for carbon dioxide. It makes us even more determined to do our small bit to bring green clean air to our world.
So we'll end on a high note with David Harrison's re-imagined snippet of our community in the Islington Gazette. Let's go and promenade, Victorian-style.
That's it for now folks! Given the weather, we're looking forward to enjoying a Dark'n'Stormy this evening. Not to be confused with Stormy Daniels.
All our best
Low Traffic Barnsbury & St Mary's