Dear Neighbours
I hope you are well, keeping safe, healthy and warm. We're finding that hot chocolate works wonders, as does pizza and wine.
As we wend our way towards the end of a soggy Autumn, it's tempting to crack out the box sets and hibernate at the weekend. A couple of weekends ago, to instil a bit of discipline, I allowed my daughter to drag me out on a Santander Cycle from the stands at Islington Green, up the roads along the New River Path, ending up at Clissold Park - and back again. Actually, we tried to go a bit further, but the roads past the park were a bit busy for our wobbly cycling.
Cost of the Cycle: £4 (1 hour); cost of a helmet: £depends how far you want to stretch your wallet (can be reused though 😉); and, as an added bonus, we discovered the AllTrails app (free, so far as I can tell) which will be our starting point for the next adventure.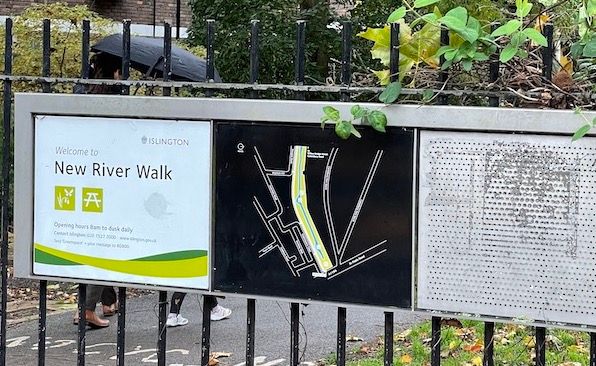 In other news, we'll hopefully be able to add a link for the new Highbury residents group to our Community groups page. People Friendly Streets in Highbury East and West, as well as St Mary's Church "triangle", are planned for implementation by the end of this year. We're busy getting nosey so we can get more information and let you know more.
After battling various bit of vandalism to the new road furniture, Canonbury West People Friendly Streets section has finally been rolled out. And, although it's old news now, the Amwell section of People Friendly Streets in Islington was anounced, and is in the process of being set up. We haven't wandered south of the Pentonville Road in a while, so we might take a bit of a constitutional to those parts of the borough and do up an Update in Pictures. Given the weather, we'll be killing two birds with one stone and taking a shower at the same time. As an aside in the meantime, check out the Amwell Society's brilliant website, which I stumbled across this morning.
And, as if you needed a reminder, get your clicking finger out to comment and "like" other positive posts on Commonplace. Visit our FAQs, check out local and national press, and arm yourself for those invigorating NextDoor discussions. Make your voice heard! These are OUR STREETS!
As ever, let us know what else you want to hear about, by emailing us on barnsburystmarys@gmail.com.
All our best
Barnsbury & St Mary's Neighbourhood Group